SPIDEX installed poles and anchors for impact netting on the FIS race track in Lake Louise.
Marmot Basin hired SPIDEX to install fences for future snow farming.
SPIDEX was contracted to place the sleeves but instead of digging, we pounded the holes.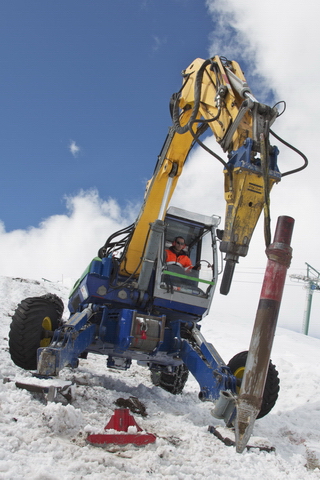 The advantage is that the sleeves have a much more solid base.
Boulder, Stump Removal & Burn Piling
When boulder fields need to be leveled, we use our grapple bucket to replace and move the rocks.
Stump removal and burn piles are another option to smooth out runs.
Ski Lift Tower Foundations
We do excavations for chairlift towers and terminals for both Leitner Poma and Doppelmayr.
The use of a Spider has advantages in national parks, where low ground impact is requested or in areas where the terrain makes the use of a conventional excavator impossible.
We demolish and reclaim previous ski chairlift tower footings.
With the ski season over we can begin the project at the summit of Sunshine in Banff.
Vegetation Control On Ski Runs
We specialize in mulching previously hand logged ski runs.
We mulch the stumps and stems down to ground level, but also brush back diamond black ski-runs that are overgrown with alders or willows.
Relocating giant boulders to help prevent costly Snow Cat damage.
The slopes aren't just for skiers anymore – the Spider loves the snowpack.